I have written a piece, but I am not sure if it is prose or a poem. I ought to know. I was an English minor. But I look at it, think it's a poem, but don't know why. It's like trying to differentiate between a bagel and a bun. I can easily explain the difference between a bun and a slice of bread, or a slice of bread and a bagel, but the similarity or a bagel and a bun is overwhelming...
Anyways, I hope you like bagels...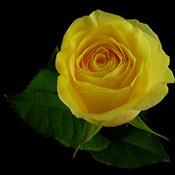 I once had a rose.
A beautiful yellow rose
That for some time I took for granted.
Then that rose started to wilt,
and I tried so hard to prop it up...
more water...
rose food...
even wire to help support the stem...
I thought it was working
The rose still filled the room with beauty
and perfumed the air with it's sweetness...
But eventually the rose lost petals..
while the remaining petals dried...
There was no life left in my beautiful yellow rose....
I clutched it hard
I did not wish to let go
Thorns dug deeply into my thumb and forefinger.
Still, I held on, until I could no longer.
A deep gash was left, and it bled hard.
I liked to make it bleed,
My beautiful rose deserved no less,
But now it is time to heal
Because my blood can't revive a dead rose.
My blood does no good...
A scab is forming,
which bleeds only if I move my hand.
Eventually there will be a scar.
When I look at it
I won't think about how hard I bled
But about how blessed I was to have
so beautiful a rose, that to let go of
hurt worse than to hang onto thorns...