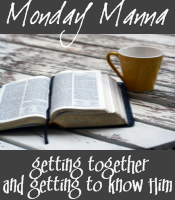 A new friend named Joanne invites us to take part in
Monday Manna
.
We were given this verse to contemplate.

"God is not a man, that he should lie, nor a son of man, that he should change his mind. Does he speak and then not act? Does he promise and not fulfill?" Numbers 23:19

That verse made me think of this:
God promised us a Savior when our first parents were kicked out of the Garden of Eden for insubordination. He spoke His promise, He acted on His promise, and His promise has been fulfilled in Christ Jesus.
What a costly and painful promise that was for HIm to make and keep, yet He did. Wow!